Mozzarella Fresca Marinated in Ultra Fruity Picholine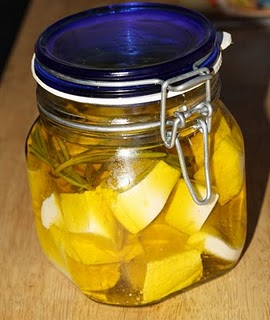 The mozzarella pictured is homemade but you can use any good quality, store bought mozzarella fresca for this recipe.

1 1/2 cup Crushed Olive Picholine Extra Virgin Olive Oil
1 pound of bocconcini mozzarella fresca, drained
1 teaspoon kosher salt
1/2 teaspoon hot red chili flakes (optional)
2" sprig fresh rosemary, bruised to release fragrance

Drain the mozzarella and salt. In a medium sauce pan, over medium low, gently heat 1/2 cup of Ultra Picholine, red chili flakes and rosemary to 175 degrees. Hold for 2 minutes and then allow to cool to room temperature. Mix in the remaining cup of Ultra Picholine. Place the salted mozzarella fresca in a jar or other container large enough to hold the olive oil and cheese. Pour the oil, herbs and chili flakes over the cheese. Marinate in the refrigerator for up to one week. This cheese is delicious speared on a toothpick with a small, ripe cherry tomato and a basil leaf.