Orders placed by December 19th are expected to be delivered by December 24th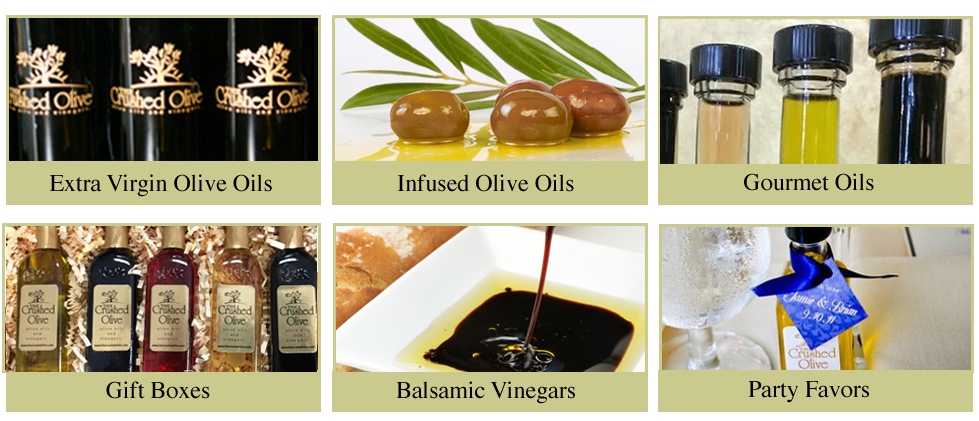 Welcome to
The Crushed Olive
The Crushed Olive offers only the best olive oils from around the world, specifically 100% Extra Virgin Olive Oil (E.V.O.O.) and the finest Balsamic Vinegars.
Our olive oils are flavored naturally using the whole fruit, leaf, or clove. Maintaining these high standards allows you the opportunity to enjoy the many exquisite flavors and beneficial health benefits people have come to love about our products. Loaded with powerful antioxidants, polyphenols, vitamins, and minerals, studies have shown that these qualities of Extra Virgin Olive Oil are responsible for strengthening the heart and inhibiting cancer causing agents.
Our aged, naturally flavored Balsamic Vinegars are imported from Modena, Italy. We carry both white and dark Balsamic Vinegars, with a time honored attention to quality and detail resulting in an exceedingly smooth, dense, and complex product.
Stop by one of our stores for an unforgettable experience. We feature an open tasting and invite you to sample and really taste the difference quality makes. Once a selection is made, we fill-cork-and seal each bottle to ensure freshness.
Unleash your culinary genius and become inspired to create delicious and healthy meals for those you love.
The Crushed Olive is a family owned business.
We have four locations on Long Island in the villages of Huntington, Stony Brook, Sayville and Babylon.

The greatest exponent of monounsaturated fat is olive oil,

Come visit our Tuscan inspired stores with over 55 variations of olive and vinegar oils

Come visit our Tuscan inspired stores with over 55 variations of olive and vinegar oils